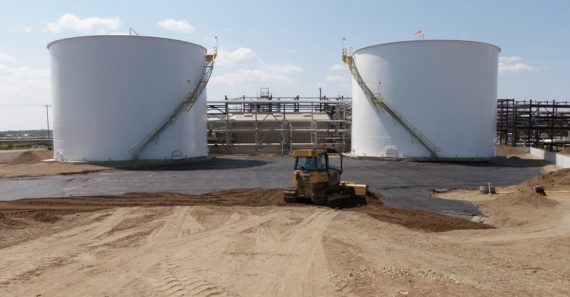 Complete Containment Services
We deal with a number of different suppliers for liner and wall panels and have experience with most styles of secondary containments.  Our installation crews all have an earthworks background, a key factor in a process that has to start with proper base prep to ensure a quality finished product that will stand the test of time.
Secondary Containment Photo Gallery
Quality of work means everything when you are building the last line of defense.
More info about our Secondary Containments
Every stage of our Secondary Containment installation process is monitored and documented to follow our strict quality assurance program.  It is our policy to ensure that all the materials and workmanship provided to the owner meet or exceed in every respect the standards required by the plans, specifications, applicable codes and regulations.  Our quality control program will provide organizational structure, compliance procedures, and measures to provide traceable documentation for the owner and it's representatives.
Contact us about a job
We'll get back to you within 1-business day.