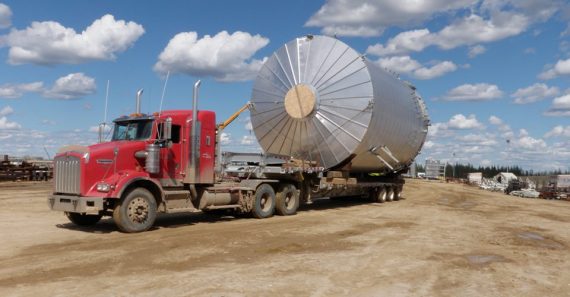 We have a diverse fleet of highway tractors and trailers capable of moving almost any load on or off highway.  Whether you just need a dump truck to move some gravel or a tri-drive winch truck with a scissor neck and live rolls to move your skid mounted office trailer we should be able to help you out.
Material Transport Photo Gallery
In our fleet we have double drop and single drop lowbed trailers for moving heavy equipment, as well as single drop and super B configurations for moving materials.  We also have pipe and pole trailers as well as dump trailers.
More info about our Heavy Transport Division
To compliment our selection of trailers we also have a variety of heavy trucks ranging from single axle deck and dump trucks to tri-drive winch trucks and everything in between.  The diversity allows us to match up the correct combination for delivering your load.
What is the heaviest load you can haul?
We have delivered equipment in excess of 55,000 kg (120,000 lbs)
Do you move oversize loads?
We have delivered loads up to 20 meters (66 feet) wide, as well as loads that were over height and overweight.
Do your drivers have special training?
Our commercial drivers receive training in cargo securement, weights and dimensions, vehicle inspections, and hours of service to name a few.
Contact us about a job
We'll get back to you within 1-business day.