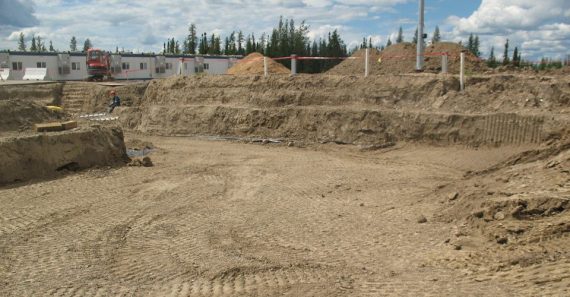 We have experience excavating foundations, pipelines, underground services and road construction just to name a few.  It doesn't matter if it's a large scale remediation project or simply re-grading your front lawn for better drainage, our team has the experience to get the job done.  We also have training in the latest geotechnical products for things like controlling erosion, managing ground water, and increasing ground bearing capabilities.
Our fleet is diverse.  From an excavator that could fit in your front door to one that could bring down the house, and almost every size in between.  Hundreds of attachments – From a brush rake for clearing your new build site to hydraulic breakers for removing that old concrete.  If you already have a hole and you just need it filled we have rock trucks, dozers, loaders, compactors and much more!
How do I know what size and type of machines are needed for my project?
Since there are many factors involved in arriving at the best solution, send us some pictures and/or drawings for your project and we can assist you to decide the most effective execution strategy.
Do you have pictures of the machines I can look at?
Almost every machine in our fleet is shown with pictures in the rentals portion of our website.  If you have questions about a particular machine please reference the unit number in your email.
Contact us about a job
We'll get back to you within 1-business day.